Velociraptor
Length:3 feet long
Hieght:1 foot at the hips
Life span:70-89 years
Feathers: Massive amounts including wings

Kingdom:Animalia
Phylum:Chordata
Class:Reptilia
Clade:Dinosauria
Order:Saurischia
Suborder:Therapoda
Family:Dromeaosauridae
Subfamily:Velociraptorinae
Genus:Velociraptor Velociraptor was a small raptor living in the late Cretaceous period in modern day Mongolia. It is often mistaken for a gaint when it was a small and gracefull killer. Velocriaptor would hunt things such as protocerat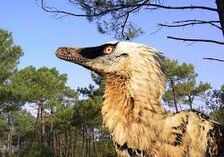 ops and living alongside giants like Tarbosaurus and Therizinosaurus.
An avian Dinosaur
Origianlly depicted as scaly reptiles, Velociraptor was actually covered in feathers and even had wings to help keep it balanced. These feathers would insulate the raptor and gain impressive colours for display in the mating season.
Ad blocker interference detected!
Wikia is a free-to-use site that makes money from advertising. We have a modified experience for viewers using ad blockers

Wikia is not accessible if you've made further modifications. Remove the custom ad blocker rule(s) and the page will load as expected.