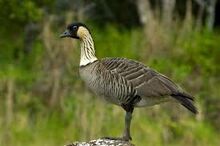 Nene
Wingspan:5 feet 
Hieght:2.7 feet 
Whieght:4.6 lbs 
Lifespan:16 years

Scientific name: Branta sandvicensis
Kingdom:Animalia
Phylum: Chordata
Class:Aves
Order: Anseriformes
Family:Anatidae
Subfamily:Anserinae
Tribe:Anserini
Genus: Branta
Species:B. sandvicensis
Did you know: Unlike other geese, Hawaiian Geese don't need open water, however, they will swim if there is water near their nests.
The nene, also known as nēnē and Hawaiian goose, is a goose living in the Hawaiian Islands. As the official bird of the state of Hawaiʻi, the nene is exclusively found in the wild on the islands of Oahu, Maui, Kauaʻi, Molokai, and Hawaiʻi. However it is not as common due to habitat loss.
Ad blocker interference detected!
Wikia is a free-to-use site that makes money from advertising. We have a modified experience for viewers using ad blockers

Wikia is not accessible if you've made further modifications. Remove the custom ad blocker rule(s) and the page will load as expected.